Apollo Custom Glock 43X 9mm PK CHAMP EB 10rd
The Apollo Custom Glock 43X features a compact Slimline Cerakote Pink Champagne frame with a Cerakote Elite Black slide. The 10-round magazine capacity makes it ideal for concealed carry.
Designed for comfort, The G43X combines a compact-size grip length, a built-in beaver tail and a subcompact-slim slide for a comfortably balanced, versatile grip that´s ideal for a variety of users.
The frame incorporates elements of the Gen5 and Slimline series such the short trigger distance, a frame with a built-in beavertail, a reversible magazine catch and the incredibly accurate, match-grade GLOCK Marksman Barrel (GMB) and precision-milled front serrations.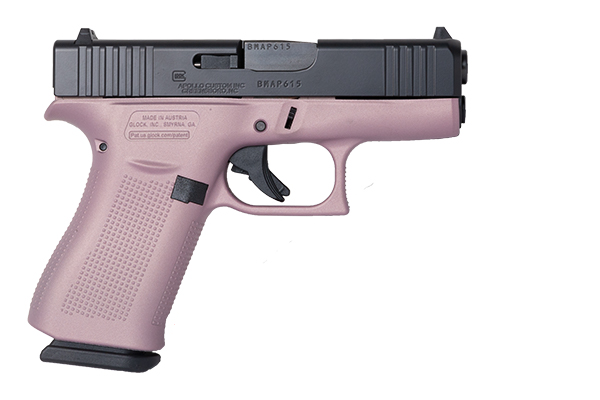 Specifications
Model: 43X PK CHAMP
SKU: ACG-00870
UPC: 850386008707
Brand: Apollo Custom | Glock
Action: Semi-Auto, Safe Action
Caliber: 9MM
Slide Finish: Cerakote Elite Black
Frame Finish: Cerakote Pink Champagne
Front Sight: White Dot
Rear Sight: White Outline
Barrel Length: 3.41″
Overall Length: 6.50″
Weight: 16.40 oz
Capacity: 10+1
Mags Included: 2
Safety: Safe Action – 3 Separate Automatic Safeties
MSRP: $660