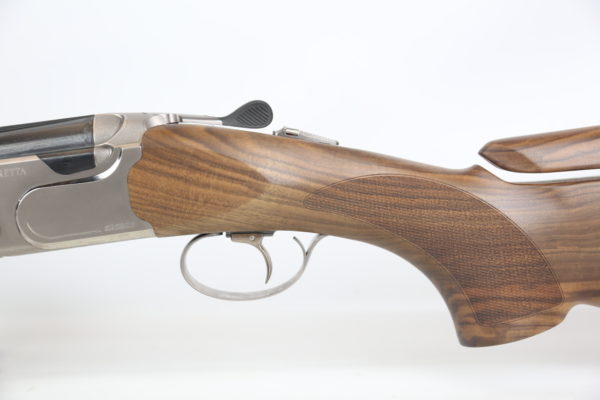 Outfitted to adapt to any Skeet shooter, the Beretta 692 Skeet with B-Fast features an adjustable monte carlo stock with a rounded forend as well as a mid bead and a bradley style front bead.
Beretta B-FAST
B-FAST stands for "Beretta Fast Adjustment System Technology". This modular adjustment system, specifically designed for Beretta, is new to Beretta's competition shotguns. B-FAST is a group of devices that give the shooter an advantage by allowing them to easily adjust their gun to fit them.
B-FAST Adjustable Balance System
Each Beretta 692 comes balanced from the factory, but the owner can adjust the gun to his or her individual preference or shooting style using only simple tools. This is thanks to a system of removable weights known as "B-FAST Balance".
Model Number: J692S10
Action: New (41.6mm Wide Receiver)
Gauge: 12
Chamber: 3″
Barrel Length: 30″
Wood Finish: Hand Rubbed Oil
Stock/Fore-end: Select Walnut
Butt Plate: Microcore
Safety: Manual
Trigger: Single Selective (Adjustable)
Fore-end: Rounded
Rib Type: 8mm to 10mm Tapered
Sight: Mid Bead with Bradley Style Front Bead
Barrel: Steelium Plus
Due to some manufacturers requirement of adherence to a Minimum Advertise Price, we cannot list our actual sales prices but if you call 1-888-365-7030 or email we will be happy to give you our best price.