Glock 34 Gen 5 9mm 17rd AS FSS MOS
The Glock 34 Gen 5 MOS features an extended barrel and greater slide dimensions, making it a favorite among sport shooting competitors.
Design enhancements include the GLOCK Marksman Barrel (GMB) which delivers increased accuracy with enhanced polygonal rifling and an improved barrel crown, no finger grooves, ambidextrous slide stop levers for better versatility and control, and an nDLC finish, which is a tougher and more durable finish that is exclusive to the GLOCK manufacturing process.
Modular Optic System (MOS) makes it easy to mount a reflex sight on the pistol's slide without the need for a new slide or separate mounting system (adaptor plates included).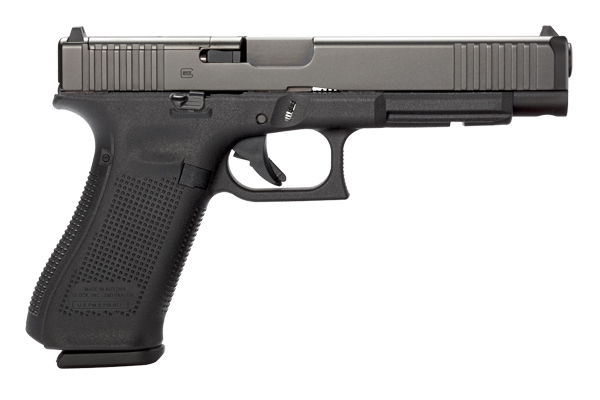 Specifications
Model: G34 Gen5 MOS
SKU: PA343S103MOS
UPC: 764503030024
Action: Semi-Auto, Safe Action
Caliber: 9MM
Finish: Matte Black nDLC
Action: Safe Action
Front Sight: White Dot
Rear Sight: Adjustable White Outline
Barrel Length: 5.31″
Overall Length: 8.74″
Weight: 23.46 oz
Capacity: 17+1
Mags Included: 3
Safety: Safe Action-3 Separate Automatic Safeties
Receiver: Polymer
MSRP: $851