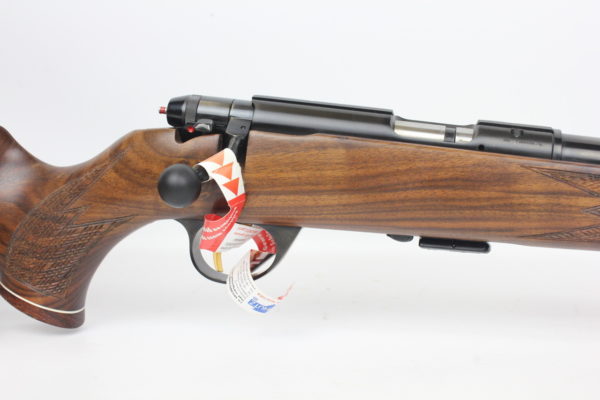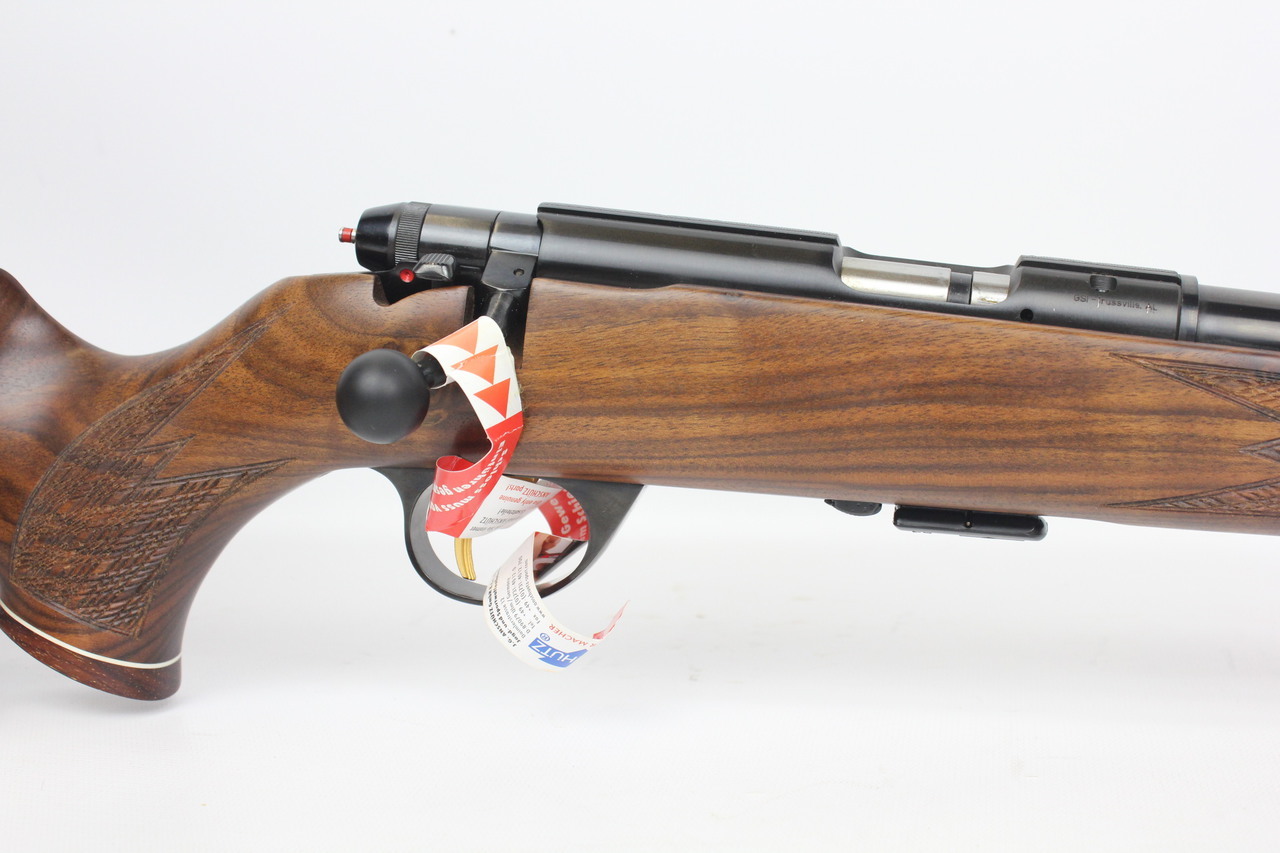 Special Version 1710 Sonderausfuhrung- Luxus Wood/Gold Trigger
Hunting repeaters of the series 1700:
ANSCHÜTZ target rifles are famous for their solid design, functionability and unsurpassed performance all around the world. The ANSCHÜTZ 54 match cylinder action which is also part of the ANSCHÜTZ hunting repeaters dominates national, international, Olympic and world championship competitions in the small bore rifle disciplines. Buying such a hunting repeater does not only mean to acquire state-of-the-art technology but also a master piece in a class of its own.
Action:
The bolt with dual locking lugs is seated eccentrically in the receiver to give the action screws more support for better stock bedding. The bolt is cam cocking. Fast and trouble-free repeating is guaranteed by claw extractor and the additional cartridge holder with ejector. This precision makes ANSCHÜTZ hunting repeaters a reliable partner in the field and in the forest. The receiver is equipped with an 11 mm (7/16″) wide grooved receiver rail and is additionally drilled and tapped for scope mounts. The bolt face is recessed for full cartridge head support. An independent lateral bolt stop limits the travel of the bolt and thus protects the trigger as well.An additional gas escape groove guarantees safety.
Safety:
The sliding safety catch on the right hand side, a recent improvement, blocks the trigger sear in the safe position and simultaneously lifts the trigger sear and bolt release latch
Trigger:
Two stage trigger and single stage trigger correspond to the match triggers of the ANSCHÜTZ target rifle. The low-weight, hardened and finely polished triggers enable a fast and precise release of the trigger. Gold Triggers Upgrade on this model.
Barrel:
The barrels are manufactured using the same special process perfected for the ANSCHÜTZ target rifles. The same attention to detail is given to the fitting of the receiver and the counterbore at the muzzle.
Sight sets:
Folding leaf sight adjustable in height and pearl front sight adjustable in height on ramp with hood.
Monte Carlo stock:
Walnut stock with roll-over cheek piece, with fore-end schnabel tip, pistol grip cap of rosewood, hand checkering at pistol grip and fore-end, black plastic butt plate with white liner and studs for sling swivel.
Item No.: 000471
Technical Data
Name:
1710 Sonderausfuhrung
Item No.:
000471
Total length (cm)
107.5
Weight approx. (kg):
3.4
Trigger
Name:
5096 D
Item No.:
004007
Model number:
 Gold 5096D
Type:
Single stage trigger
min. Trigger weight (g):
1000
max. Trigger weight (g):
2000
Trigger weight, adjusted (g):
1200
Barreled Action
Name:
Match 54
Barrel:
ANSCHÜTZ Precision barrel
Caliber:
.22 l.r.
Version:
right
Number of discharges:
8
Muzzle diameter (mm):
18
Magazine capacity:
5
Barrel length (cm):
58.4
Stock
Name:
Monte Carlo
Grip:
Grip standard size
Material:
Walnut
Butt plate:
Rubber butt plate
min. Length of pull (cm):
36
max. Length of pull (cm):
36