Zeiss Conquest V4 3-12×56 Reticle 60
A high-quality optic for rugged hunting use–The Zeiss Conquest V4 3-12×56 Reticle 60.
Uncompromising quality and ruggedness – the Conquest V4 line of high-performance riflescopes combines the tried-and-true ZEISS optics concept with a rugged and functional design. Equipped with 4x zoom and functional and fully reliable mechanics, these scopes set a new standard in their class.
This scope is suitable for hunting from a blind both at dusk and at night. Thanks to the large-diameter lens and illuminated reticle, high accuracy is guaranteed – even in low light conditions.
Features
Functional Mechanical Parts (Unparalleled Reliability): The scope's mechanical parts prove their worth in every situation that demands a quick reaction from the hunter.
Perfect for Nighttime Use: This specialist for sitting game at night in the Conquest V4 range and its lens with a diameter of 56 mm is perfect for when the sun has set.
Fine Illuminated Reticle: The extremely fine, daylight-capable illuminated dot on the Reticle 60 can be activated when needed and impresses with its high light intensity. It can be continuously dimmed, making it ideal for any hunting situation. Its positioning in the second image plane ensures minimal subtension.
Reliability
Tested in the laboratory. Proven in nature.
Hunting optics are not a scientific instrument but tools which must function in every hunting scenario. If there is heavy rain when you are hunting, there is only one motto to go by: Persevere! The waterproofness of your optics should be the last thing on your mind.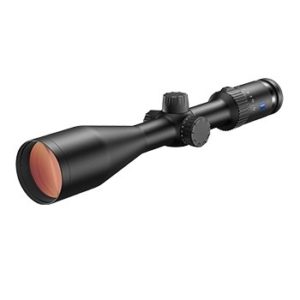 Shock
Waterproofness
Continuous Shock
Temperature
Corrosion
Technical Data
Magnification
3 x
12 x
Effective lens diameter
27,7 mm
56 mm
Exit pupil diameter
9,2 mm
4,7 mm
Twilight factor
9,1
25,9
Field of view at 100m
12,7 m
3,2 m
Ojective viewing angle
7,2°
1,8°
Diopter adjustment range
-3/+2
Eye relief
90 mm
Parallax-free
91,4 m
Adjustment range at 100 m
200 cm
Adjustment per click at 100 m
0,7 cm
Centre tube diameter
30 mm
Eyepiece tube diameter
44 mm
Objective tube diameter
62 mm
LotuTec® / Nitrogen filled
ja / ja
Water resistance
400 mbar
Operating temperature
-20/+55
Length
368 mm
Weight without inner rail
610 g
Reticle: 60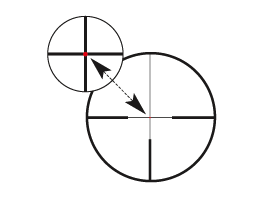 illuminated
The Reticle 60 is lighter and finer in looks than the similar Reticle 40. The posts only cover half­ the area, leaving double the amount of space between them. This makes it perfect for precision shooting with minimum coverage of the target game. At 12 x magnification and a target coverage of just 0.55 cm at 100 m you keep a good overview without losing sight of the finer details. The illuminated dot is very bright, and can therefore be used for daytime hunting. The dot can be finely adjusted, which makes it ideal for night-time hunting too. The reticle is in the 2nd image plane in each riflescope.