Zeiss Conquest V4 6-24×50 ZMOA-1
High-quality optics for rugged hunting use–The Zeiss Conquest V4 6-24×50 ZMOA-1.
Uncompromising quality and ruggedness – the Conquest V4 line of high-performance riflescopes combines the tried-and-true ZEISS optics concept with a rugged and functional design. Equipped with 4x zoom and functional and fully reliable mechanics, these scopes set a new standard in their class.
24x magnification and parallax compensation make this scope a specialist for precision shots from long distances.
Features
Functional Mechanical Parts (Unparalleled Reliability): The scope's mechanical parts prove their worth in every situation that demands a quick reaction from the hunter.
Ballistic Turret: With its wide reticle adjustment range, the hunter has the flexibility needed for a variety of different hunting methods.
Ballistic Reticle: The reticle can be individually adjusted to target distances and the hunter's needs.
Reliability
Tested in the laboratory. Proven in nature.
Hunting optics are not a scientific instrument but tools which must function in every hunting scenario. If there is heavy rain when you are hunting, there is only one motto to go by: Persevere! The waterproofness of your optics should be the last thing on your mind.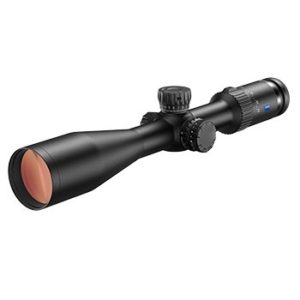 Shock
Waterproofness
Continuous Shock
Temperature
Corrosion
Technical Data
Magnification
6 x
24 x
Effective lens diameter
44,9 mm
50 mm
Exit pupil diameter
7,5 mm
2,1 mm
Twilight factor
16,4
34,6
Field of view at 100m
6,3 m
1,6 m
Ojective viewing angle
3,6°
0,9°
Diopter adjustment range
-3/+2
Eye relief
90 mm
Parallax-free
45,7 – ∞ m
Adjustment range at 100m
230 x 175 cm
Adjustment per click at 100m
0,7 cm
Centre tube diameter
30 mm
Eyepiece tube diameter
44 mm
Objective tube diameter
56 mm
LotuTec® / Nitrogen filled
ja / ja
Water resistance
400 mbar
Operating temperature
-20/+55
Length
368 mm
Weight without inner rail
690 g
Reticle: ZMOA-1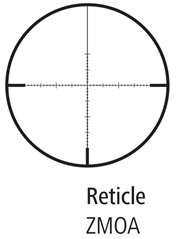 ZEISS ZMOA ballistic reticle features fixed MOA subtensions. The number followed by the reticle name (e.g ZMOA-"1") indicates the distance in MOA between the hashmarks [Distance "A" – e.g. "1" MOA]. The hashmarks on the horizontal and vertical crosshairs can be used for windage and elevation compensation, and for target ranging, when used with the optimum magnification setting stated in the charts.