Zeiss Victory V8 2.8-20×56 Reticle 60
The perfectionist with light reserves–The Zeiss Victory V8 2.8-20×56 Reticle 60.
The 2.8–20×56 ZEISS VICTORY V8 opens up every opportunity – from long-distance shots to hunting deep into the twilight. 92% light transmission ensures bright, high-contrast images. This model is compact and easy to use, making it the perfect match for even the highest quality rifles.
Features
More Versatile (Largest zoom range): A hunt is unpredictable – one of the reasons for its appeal. Whether you're drive hunting or stalking game in your local hunting grounds or elsewhere – the situation can change in a matter of seconds and you must be prepared. The large zoom range and the associated flexibility at all distances make the ZEISS VICTORY V8 the best super-zoom riflescope on the market. And when the opportunity arises, the VICTORY V8 from ZEISS is ready and waiting – any time, any place.
More Powerful (Optical Perfection): It simply isn't possible to view your target more clearly or brightly. The interaction of 92% transmission and SCHOTT HT glass ensures outstanding image quality and target resolution. Furthermore, the optics feature unparalleled speed. The large exit pupils and extremely large fields of view ensure fast target acquisition and an excellent overview of the hunting situation. Precise shots through narrow lanes are not a problem with the ZEISS VICTORY V8. The large exit pupils enable fully relaxed viewing: no shadowing and an immediate round image. Experience the sheer brilliance and uniquely fast optical system of the ZEISS VICTORY V8.
More compact (Performance-oriented Design): Never before has a ZEISS riflescope been more sharply focused on performance and elegance than the VICTORY V8 from ZEISS. The new centre tube featuring a diameter of 36 mm enables a compact design, as well as a lot of room for optical excellence. The first time you look through the ZEISS VICTORY V8, you'll realize that such image quality and resolution simply cannot be beat. It is also more compact than comparable systems on the market, and therefore stands out with its maximum ease of use. It is an optical masterpiece and a totally new experience in design for uncompromising users who want top performance every time.
More Precise (True long-distance shot capability): The VICTORY V8 unites the latest technologies to create memorable moments: thanks to the directly readable shot distance, the new bullet drop compensator (BDC LongRange) is considered the most intuitive and thus most precise long-range shot concept in the world. The adjustment range of 100 clicks enables you to stay on target at distances up to 600 m – another benefit of the 36 mm centre tube diameter.
More Innovative (Pioneering technologies): The multifunction button on the ZEISS VICTORY V8 line is the most advanced illumination control system on the market. It can be quickly, silently and intuitively operated even with gloves on. Another stroke of genius from ZEISS: the integrated intelligent motion sensor. The illuminated dot is automatically deactivated as soon as you put the weapon down. It reactivates as soon as you take aim – a feature that saves time and energy.
Reliability
Tested in the laboratory. Proven in nature.
Hunting optics are not a scientific instrument but tools which must function in every hunting scenario. If there is heavy rain when you are hunting, there is only one motto to go by: Persevere! The waterproofness of your optics should be the last thing on your mind.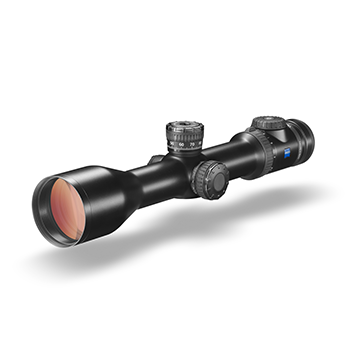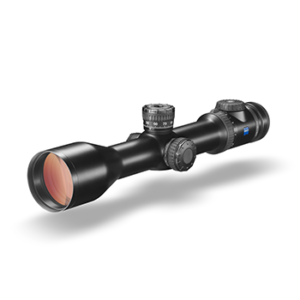 Shock
Waterproofness
Continuous Shock
Temperature
Corrosion
Technical Data
Magnification
2.8 x
20 x
Effective Lens Diameter
27.5 mm
56 mm
Exit Pupil Diameter
9.9 mm
2.8 mm
Twilight Factors
7.9
33
Field of View at 100m
15.5 m
2.1 m
Subjective Viewing Angle
8.9 °
1.2 °
Diopter Adjustment Range
+2 | -3.5 dpt
Eye Relief
95 mm
Parallax-Free
50-∞ m
Adjustment Range Height at 100m
210 cm
Adjustment Range Lateral at 100m
135 cm
Adjustment per Click at 100m
1 cm
Centre Tube Diameter
36 mm
Eye Piece Tube Diameter
46 mm
Objective Tube Diameter
62 mm
LotuTec®
Yes
Nitrogen Filling
yes
Water Resistance
400 mbar
Functional Temperature in °C
-25 | +50 °C
Length
350 mm
Weight without Illuminated Reticle
Without Inner Rail
–
With Inner Rail
–
Weight with Illuminated Reticle
Without Inner Rail
830 g
With Inner Rail
855 g
Reticle: 60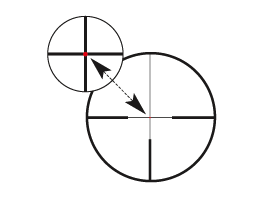 illuminated
The Reticle 60 is lighter and finer in looks than the similar Reticle 40. The posts only cover half­ the area, leaving double the amount of space between them. This makes it perfect for precision shooting with minimum coverage of the target game. At 12 x magnification and a target coverage of just 0.55 cm at 100 m you keep a good overview without losing sight of the finer details. The illuminated dot is very bright, and can therefore be used for daytime hunting. The dot can be finely adjusted, which makes it ideal for night-time hunting too. The reticle is in the 2nd image plane in each riflescope.