Zeiss Victory RF 10×42 Binocular
A new level of shooting accuracy–The Zeiss Victory RF 10×42 Binocular.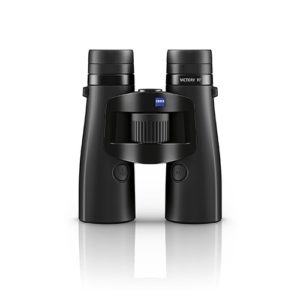 The Victory Rangefinder System is a laser rangefinder with an integrated real-time ballistics computer. The consideration of all relevant factors and customization with the aid of the ZEISS Hunting App ensure precisely placed shots at any distance.
The Victory RF 10×42 is primarily made for daylight applications.
Features
All you need at a glance (Measuring within seconds): The rangefinder determines the precise target distance up to a maximum range of 2,300 metres.

An eye for relevant data (Bluetooth synchronisation with ZEISS Hunting App): The capabilities of the rangefinder system are perfected by the ability to synchronise it with the ZEISS Hunting App via Bluetooth. Every measurement takes the physical and environmental factors, such as temperature and air pressure, into account when making the calculation.

Everything you need (Transfer of personal ballsitic data): Storage capability for up to nine personalised ballistic profiles, that can be set up within the ZEISS Hunting App. Thanks to the Bluetooth function it is possible to import personal ballistic data from the ZEISS Hunting App to the Victory RF.

Binocular real-time ballistics system (Calculate precise setting for BDC (ASV)): The various measuring functions of the rangefinder take a multitude of relevant data into account and use them to calculate the precise setting for the BDC (ASV).
Connectivity
Zeiss Hunting App: The App for today's hunters
The versatile functions of the ZEISS Hunting App have already established it as an invaluable hunting companion.
The revised version is compatible with the ZEISS Victor Rangefinder System and allows the transfer of a wide range of data stored in the ballistics computer to the Victory Rangefinder.
Technical Data
| | |
| --- | --- |
| Magnification | 10x |
| Effective lens diameter | 42 mm |
| Exit pupil diameter | 4,2 mm |
| Twilight factor | 20,5 |
| Field of view | 115 m |
| Subjective angle of view | 66° Ww |
| Close-up setting limit | 2,5 m |
| Diopter adjustment range | +/- 3 dpt. |
| Eye relief | 17 mm |
| Pupil distance | 53,5 – 76mm |
| Lens type | FL |
| Prism system | Abbe- König |
| Coating | LotuTec®/ T* |
| Nitrogen filling | yes |
| Waterproof | 100 mbar |
| Operating temperature1 | -25/+63°C |
| Length | 166 mm |
| Width with an eye spacing of 65 mm | 121 mm |
| Weight | 915 g |
| Measuring range | 15 – 2.300 m |
| Measuring accuracy2 | 1 to 600/ 0,5% over 600 m |
| Measuring duration | <0,3 Sec. |
| Laser wavelength | 905 nm |
| Laser beam divergence | 1,6 x 0,5 mrad |
| Battery | 1 x 3V Type CR 2 |
| Battery life at +20°C | >2.500x |
| Order number | 524549-0000-000 |